Radio Frequency Design Experience & Project Background
NuWaves Engineering boasts a strong track record of successful RF design and development experience on projects for a variety of military, government, and industrial clients. A small sampling of those RF design projects are outlined below. For additional information, please contact us.
NuWaves' UPEND Power Amplifier module leverages advanced Monolithic Microwave Integrated Circuit (MMIC) technology, as well as efficiency and thermal design, to minimize size, weight, and power (SWaP) of a PA module, while maintaining the linear output required by complex modern communications waveforms, such as 802.16.
GPS III Triplexer with Multipaction Testing Exceeding 500 Watts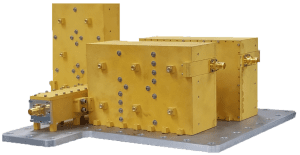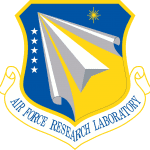 Development of a GPS III Triplexer Bandpass filter for L1, L2, and L5 communication bands. Design was focused on the following characeristics:
Wider bandwidths (up to 45 MHz) on the GPS carriers
Ability to handle higher signal powers while avoiding Multipaction or introducing unwanted Passive Intermodulation (PIM)
N-plexers having insertion loss < 0.5 dB
NuWaves is proud to confirm that the deliverable hardware met or exceeded each milestone design goal specification.
Psuedoelliptic filtering functions to provide very steep skirt

Cross-coupling techniques to minimize loss and maximize bandwidth, while at same time maintaining high isolation between channels

Low insertion loss (< 0.3 dB)
L-Band Block Upconverter for SATCOM
Quick-turn development of an L-band block upconverter and integral power amplifier module for SATCOM application.
Small size: 3.575″ x 3.775″ x 0.900″

High-efficiency 10 Watt RF Output

70 MHz Intermediate Frequency
C-Band Transverter System
Development of a custom C-band transverter system prototype to enable an L/S-band digital data link transceiver to operate over C-band frequencies. The prototype system includes a L-to-C-band RF upconverter / power amplifier module, C-to-S-band RF downconverter module, and a duplexer.
Designed to interface with L-3 Communications' Bandit transceiver

Upconverts and amplifies fixed L-band IF signal from Bandit to 4400-5000 MHz RF

Downconverts 5250-5850 MHz RF to fixed S-band IF for interfacing to Bandit

Upconverter module includes 15 Watt C-band RF power amplifier
Bidirectional L/S-Band Frequency Converter Module
Development of a bidirectional L/S-band frequency converter module (FCM) to enable operation of an S-band digital data link over L-band frequencies. The FCM was paired with NuWaves' custom L-band linear bidirectional amplifier for range extension.
Designed to interface with Persistent Systems' Wave Relay transceiver

Small size: 3.00″ x 2.00″ x 0.65″

Automatic transmit sensing & fast T/R mode switching

Pairs with custom bidirectional amplifier
Re-Engineered TSPI Digital Interface Module
Five-year development effort to completely re-engineer a legacy Time, Space, Position Information (TSPI) digital interface unit for Tactical Training Range (TTR) participant systems. Work included hardware redesign and obsolete part replacement, IP core development, encryption firmware development, first article testing (FAT) including environmental and electro-magnetic interference (EMI), user training, and production of hundreds of upgrade kits.
Form/fit replacement of legacy hardware

Functionality of obsolete parts supplied by newly developed IP cores
Rugged, Weatherproof BLOS Ship Tracker
Development of a rugged, weatherproof Beyond Line-of-Sight (BLOS) tracker system that provides Time Space Position Information (TSPI) data for range participants during Fleet training operations utilizing the Defense Information System Agency (DISA) Iridium Enhanced Mobile Satellite Services (EMSS).
Uninterruptible Power Supply (UPS)
Automated Range Equipment Test Setup
Development of an automated test bed to perform range acceptance testing, pre-mission verification, performance validation, and fault isolation of transponders used in Tactical Training Range systems.
Provides consistent test results from range-to-range

Tests three different transponder variants

Includes an integral RF simulator, Central Processing Unit (CPU), spectrum analyzer, power supply assembly, unit under test (UUT) power supply, interconnecting cables, and a double wide equipment rack.
12-month VHF transceiver prototype development exploiting commercially available off-the-shelf hardware. The prototype was used as the communications link for an Unmanned Underwater Vehicle (UUV) Communications/Navigation Aid Vehicle (C/NA) demonstration.
Frequency: 47 MHz , easily scaled to other ranges

Receiver Sensitivity: -97 dBm
RF Distribution for In-Flight Entertainment
Part of an "In-Flight Entertainment" system for commercial aircraft. The RF module provides all amplitude and gain matching, equalization, and signal splitting for the satellite receiving system.
Frequency of Operation: 950 MHz – 2150 MHz

Gain Slope: 5 dB across band to equalize cable loss

High signal port isolation

Each module consists of 4 individual 1-4 way signal splitters with gain
Radar Simulator Exciter & Receiver
Design and development of a dependable 5 GHz transmitter exciter and receiver for a Portable Radar Simulator (PRS) system.
Separate Transmitter Exciter and Receiver boards
High-Performance UHF SATCOM Diplexer
Research and development of a low-cost, lightweight, high performance UHF SATCOM / MUOS diplexer for two-way communications with expendable buoys. Work was performed under SBIR Phase I and II projects resulting in fabrication and testing of prototype triplexers.
Patent‐pending high Q and miniaturized planar filter technology
Communication System Consulting
Communication system test, evaluation, and RF propagation analysis (i.e., link budget) for U.S. Air Force customer on Unmanned Aircraft System (UAS) application.
Small UAS air-to-air communications CONOPS
Evaluation and testing of commercial Mobile Ad hoc Networking (MANET) radio
Provided link budget analysis and projected link distance and availability
Range Communication System Planning & Installation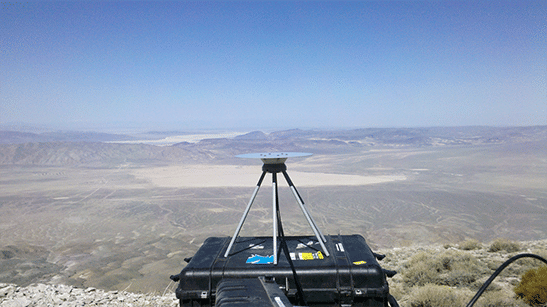 RF signal propagation and site survey analysis, and installation of range tracking communication system at U.S. training ranges.
Planned installation via RF signal propagation analysis using specialized software package with terrain modeling
On-site installation of fixed ground and airborne platforms at remote training range locations
Provided on-site training to range personnel in the use and installation of range tracking communication system
Third-Party RF Amplifier Evaluation & Repair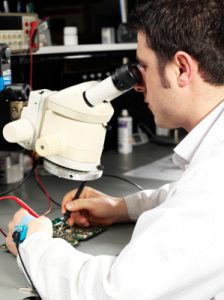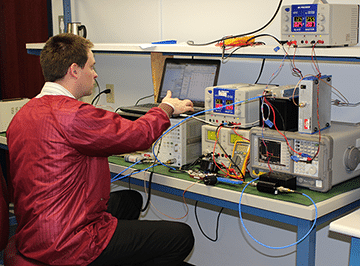 Evaluation, troubleshooting, and repair of high-power bidirectional amplifier modules without benefit of any technical drawings or documentation.
Comprehensive evaluation and deep-dive analysis of the transmit and receive circuitry
Successful repair validated through third-party testing
Originally designated "beyond economical repair" by supplier, units were cost-effectively repaired and fielded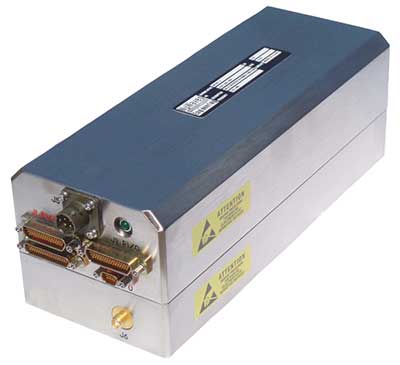 Production of a NuWaves' developed multi-function UHF radio transponder. The UHF radio provides an RF communication link for the transmission of Time Space Position Information (TSPI) for a Tactical Training Range (TTR) system.
100 Watts RF Output Power
UHF Frequency Band
Four CCAs: Receiver, Transmitter, Power Supply, Digital/Logic
Contact NuWaves to find out how our engineering services can help enhance and accelerate your project.