RF Power Amplifier Design
Market-Leading Size, Weight, and Power Consumption Power Amplifier Designs
In addition to our full line of COTS power amplifiers and bidirectional amplifiers, NuWaves also provides custom power amplifier design services to develop or tailor solutions that meet specific requirements, such as RF output power, linearity (e.g. EVM), or size, weight, and power consumption (SWaP). We offer Power Amplifier designs for Full-Duplex systems with filter capabilities to ensure that your communication links are operating without disruption or interference. Working with half-duplex communications instead? Our Bidirectional Amplifier Design capabilities will extend the range of your half-duplex system. Whatever your need is, NuWaves Engineering offers a full spectrum of RF solutions to maximize RF capability and readiness.
NuWaves' RF power amplifier design experience includes:
Check out some of our RF Power Amplifier Design blog topics:
High Performance Power Amplifier Designs Utilizing Custom Designed MMICs
High-Efficiency Power Amplifier for Over-the-Horizon Communications
High-Efficiency Ka-Band MMIC Power Amplifier Design – for BLOS UAV communication, this miniaturized Power Amplifier device is capable of Psat > 25 Watts from 29.5 – 30.0 GHz, ideal for integration into small size, weight and power (SWaP) SATCOM terminals supporting UAS platforms, including small Group II vehicles. Key technologies are novel high efficiency techniques and miniaturized PA designs that are fabricated as a custom monolithic microwave integrated circuit (MMIC).
Doherty Efficient Power Amplifier Design with Radiation Tolerance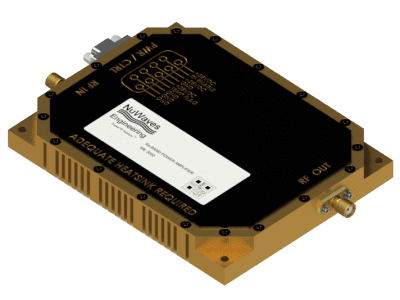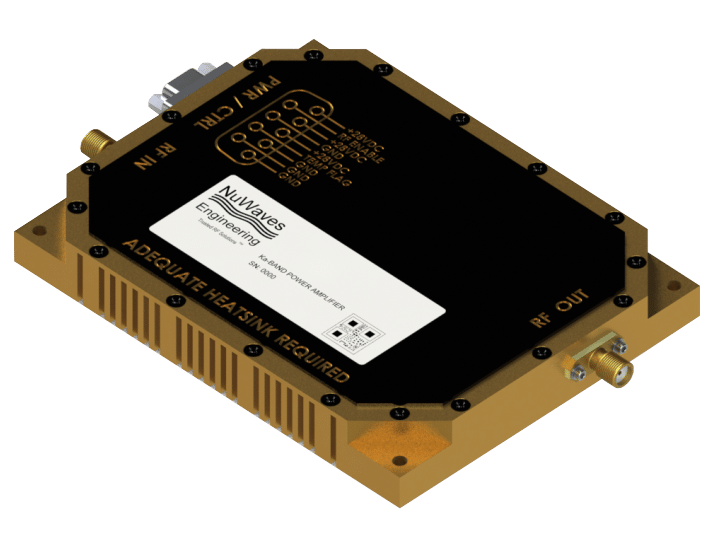 Wideband High-Efficiency Ka-Band MMIC Power Amplifier Design – Support space-based communications and radar using Ka-band frequencies, covering 29.5 – 32.5 GHz with 20 Watts of saturated RF output power and a P1dB of 8 Watts, all while maintaining a form-factor of 3.75″ x 3.0″ x 0.5″.
Custom Designed MMIC Power Amplifier Design for

High Efficiency, 

High Linearity C-Band Operation
Research, design, and development of a high-efficiency, high-linearity C-band power amplifier for unmanned aircraft systems (UAS) based on a custom Monolithic Microwave Integrated Circuit (MMIC) design using Gallium Nitride (GaN) material. This MMIC technology features state-of-the-art analog predistortion linearization and a Doherty power amplifier topology enabling very efficient operation, especially for amplitude-modulated waveforms such as 802.11, 802.16, LTE, etc.
High Efficiency Class F Power Amplifier Design
for Earth Radar Observation System
NuWaves' investigation of a more efficient breed of switching power amplifier designs with the development of Class F and Inverse Class F power amplifiers, incorporating new techniques to operate broadband on multiple RADAR bands from P-Band thru X-Band. NuWaves Engineering was able to prove the feasibility of a power amplifier that delivers efficiency of greater than 82% with peak output power greater than 25 Watts. This technology allows for the significant reductions of battery size and cooling requirements in space applications.
In addition, the amplifier incorporates extremely fast turn on and turn off circuits to achieve switching times of less than one microsecond (μs). The benefit of such amplifiers in RADAR applications is because the amplifiers prevent self-generated noise from corrupting the reflected signal during the receive period. Another benefit is that high-power transmit and receive (T/R) switches, at the antenna feed, can be eliminated.
Although the design is targeted to radar applications, the high efficiency and broadband nature of the power amplifier design makes it suitable for applications in the communications and telemetry bands as well. NuWaves developed several patentable, new technologies including several techniques for realization of Electronically-Tuned Harmonic Matching Networks to increase the efficiency of radio frequency & microwave power amplifier designs.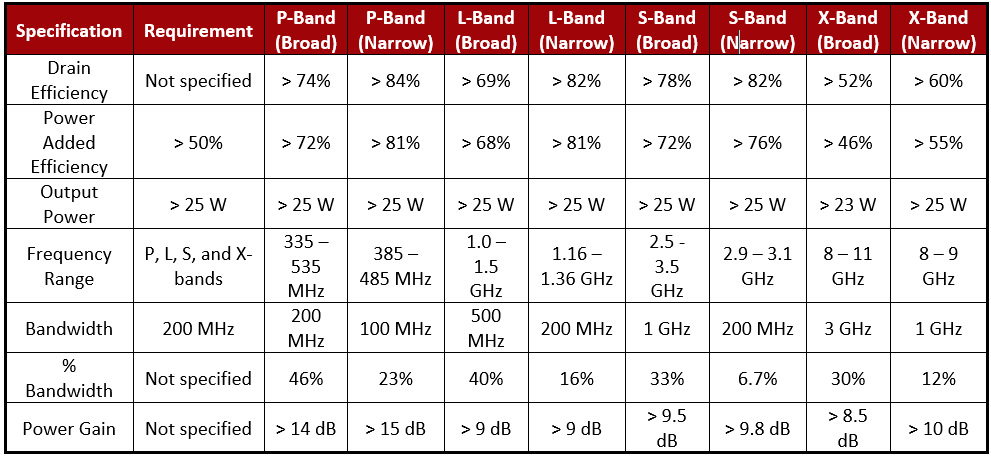 Summary of performance results achieved for P, L, S, and X-Bands. There is a trade-off between efficiency, power output, and bandwidth. Results tabulated to reflect wideband and narrow band performance.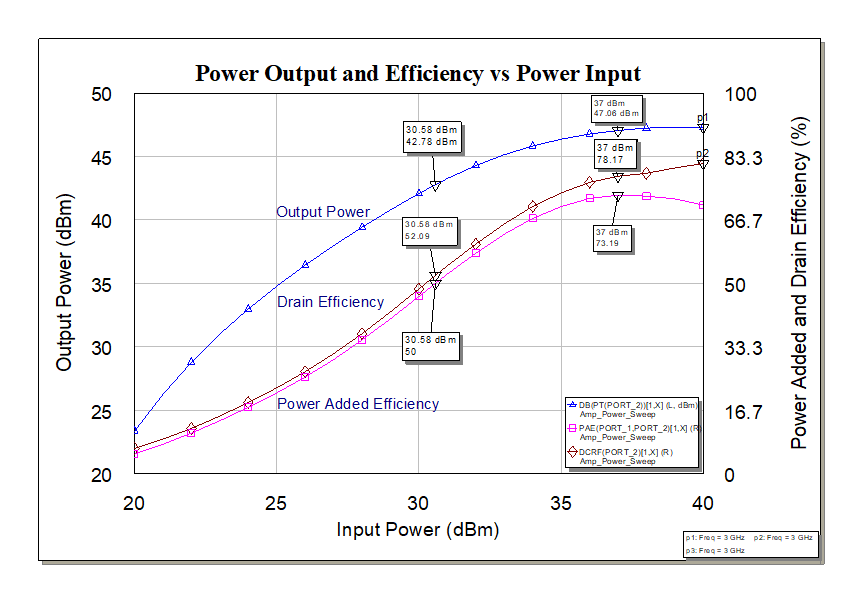 S-band power output compression and efficiency at 3 GHz utilizing new innovative Class F and Inverse Class F techniques to operate broadband on multiple RADAR bands.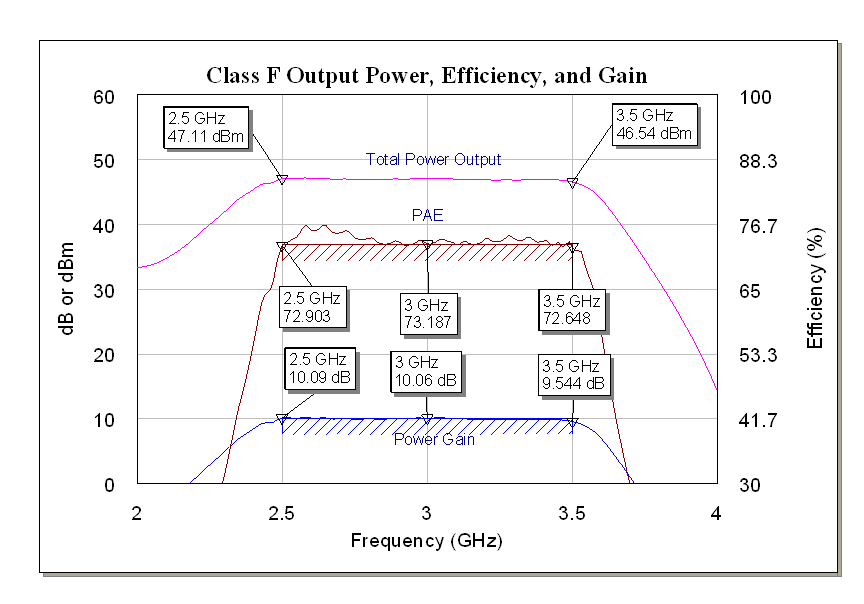 Achieved performance versus frequency. Over the frequency range of 2.5 GHz to 3.5 GHz (33% BW), the PAE exceeds 72% with an associated output power of 46 dBm (45 W) minimum. The power gain is greater than 9.5 dB with a gain flatness of 0.5 dB. Over the narrower bandwidth of 2.9 GHz to 3.1 GHz (6.7% BW), the PAE exceeds 72%, the output power exceeds 46 dBm (48 W), and the power gain is greater than 9.8 dB.
Low SWaP COTS Power Amplifier Designs
Targeted at Group 1 ( < 20 lbs.) and Group 2 (21 – 55 lbs.) Unmanned Aircraft Systems (UAS) along with other platforms with severe size, weight, and power, (SWaP) requirements, the NuPower 12A03A power amplifier was designed for L-3 Communications' Bandit miniature L- and S-band transceiver. This Micro Power Amplifier has helped to the NuPower COTS line of Power Amplifier products.
1.62 cubic inches (1.80″ x 1.80″ x 0.50″)
1.3 oz.
5 Watts RF Output Power
1.0 – 2.5 GHz
High Efficiency GaN Technology, > 45% efficiency at select frequencies
Micro Power Amplifier Design for Aerial Vehicles (MAFAV)
The NuPower COTS Line of Power Amplifiers for Low SWaP Applications
The NuPower™ series of solid state power amplifier modules is ideal for extending your communication range, with off-the-shelf modules that cover VHF, UHF, L-, S-, and C-Band frequencies with up to 100 Watts of RF output power. Leveraging the latest Gallium Nitride (GaN) technology and market-leading design miniaturization techniques, NuPower PAs are designed to meet the demanding needs of aerospace, defense and industrial markets. NuPower's combination of power efficiency and miniature, ruggedized packaging makes them ideal for size, weight, and power-constrained telemetry, Intelligence, Surveillance and Reconnaissance (ISR), and tactical communication systems applications.
NuWaves' RF Power Amplifiers have been designed to easily integrate into any communications system. With standard model variants that accept +0 dBm (1 mW) or +30 dBm (1 W) input drive levels, power supply voltages from +11 to +32 VDC, and interchangeable connector types, our modules can be easily modified to integrate with any communications setup. Learn More >>>
High RF Output Power Amplifier Designs
The NuPower™ LS100A01 L- & S-Band Power Amplifier is a small, ultra-high-power solid-state power amplifier designed for CW operation that delivers a minimum of 100 watts of RF power from 1600 MHz to 2500 MHz to boost signal power levels of data links and transmitters for communications range extension, electronic warfare (e.g. electronic attack), etc.
Based on state-of-the-art Gallium Nitride (GaN) device technology, the NuPower LS100A01 provides a compelling option for size, weight and power (SWaP) constrained RF telemetry and military communication systems given its 29 cubic inch, 22.6 ounce enclosure and 45% DC power efficiency.
100 Watt Low SWaP Power Amplifier Design for UAS
High Power Amplifier Design for Commercial Cell Base Station Communications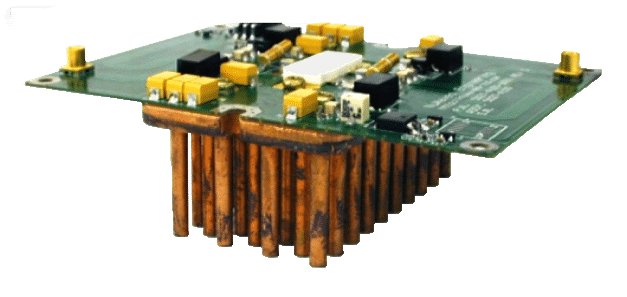 This robust power amplifier design provides capability to transmit both digital and analog modulation formats. This high gain amplifier design includes techniques to make the modulation mismatch tolerant. In addition to supporting multiple modulation formats, this commercial cell base station high powered amplifier design focuses on high RF output power, high gain, and broadband operation, and was successfully integrated into legacy systems.
HF Power Amplifier Design – A 100 Watt power amplifier design that operated in the HF band and supported burst transmissions with high duty cycles. The pulsed amplifier is highly reliable and meets the demanding environmental requirements within the industrial market place. VSWR protection, programmable on/off duty cycles and pulse repetition rates, as well as programmable RF output power are only a few of the attributes of this high quality design.
High Linearity Power Amplifier Designs
An applique that improved the linearity of a high-efficiency power amplifier design while minimizing its required power back-off in support of amplitude-modulated waveforms such as OFDM, QAM, etc. Requiring no manual adjustments, the Power Amplifier Linearizer Module's (PALM) adaptive correction maintains optimal linearity over amplifier temperature drift, power output, and other impairments
Available from frequencies from VHF trough 4 GHz, the PALM module is the ideal solution for linearizing Power Amplifiers regardless of their topology: class A, AB, and Doherty or device technology: GaN, GaAs, LDMOS. The typical improvement in adjacent channel power rejection (shoulder levels) is 12 to 20 dB depending on the modulation and signal bandwidth.
With a power consumption of less than one watt, the Power Amplifier Linearizer Module module adds little overhead to battery operated system. Also, its miniature size (2.50" x 1.75" x 0.75" ) is well suited for integration in compact amplifier systems.
Power Amplifier Linearizer Module (PALM)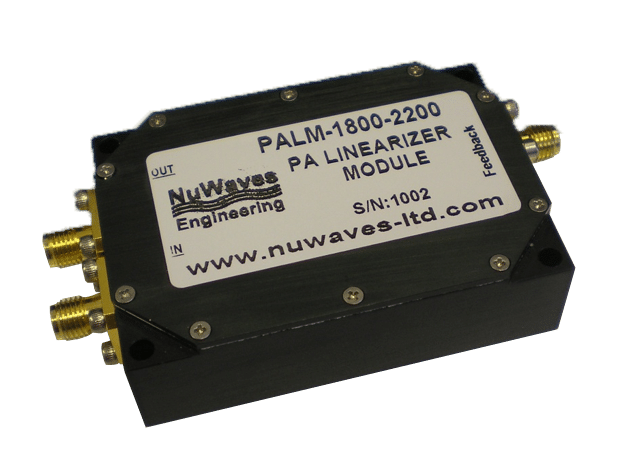 Third-Party RF Power Amplifier Design, Evaluation & Repair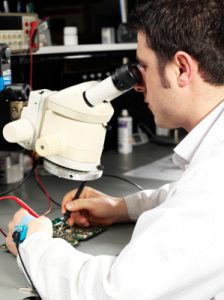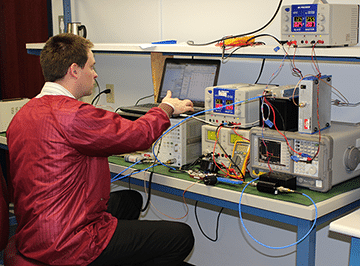 Evaluation, troubleshooting, and repair of high-powered amplifier modules without benefit of any technical drawings or documentation.
Comprehensive evaluation and deep-dive analysis of the transmit circuitry
Successful repair validated through third-party testing
Originally designated "beyond economical repair" by supplier, units were cost-effectively repaired and fielded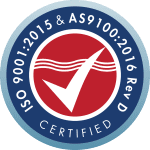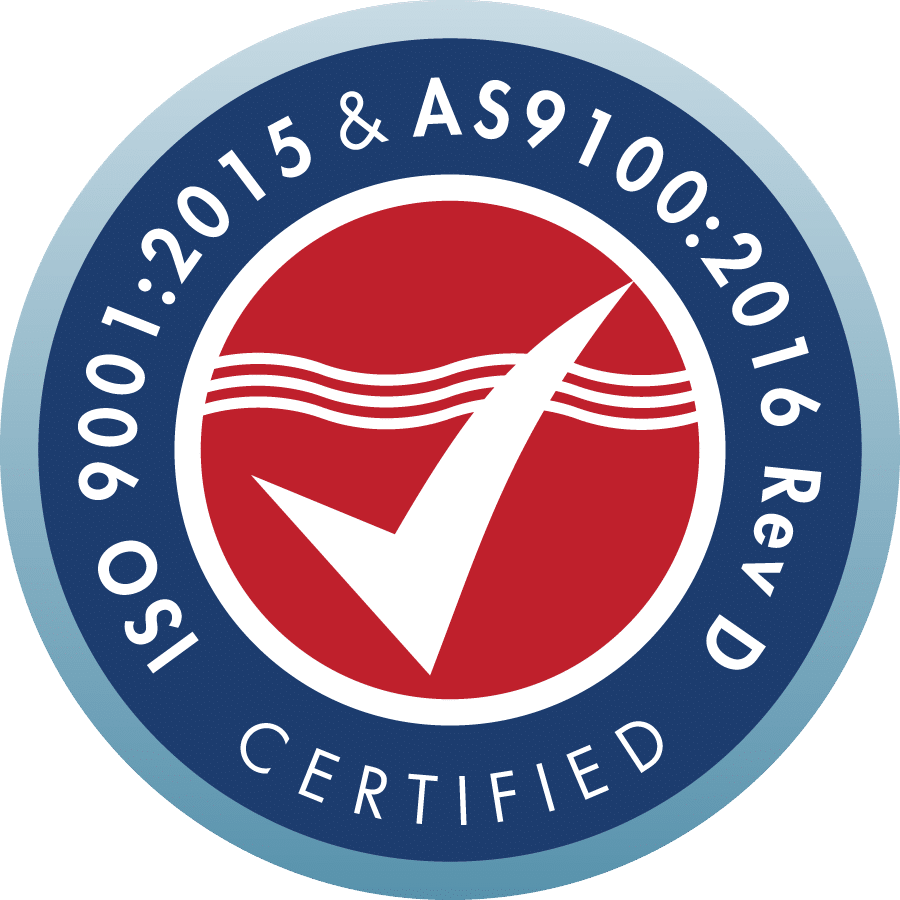 Contact NuWaves' Power Amplifier Design Team
If you are interested in having NuWaves Engineering design a RF Power Amplifier for your team, click on the REQUEST ADDITIONAL INFORMATION button below, submit your contact information and a brief description describing your project and power amplifier requirements, and a member from our Engineering Services team will reach out to you within 24 hours.
NuWaves' in-depth knowledge, experience, and key personnel allow us to offer a full spectrum of solutions to maximize your RF capability and readiness, and engineer a lasting partnership. NuWaves Engineering is driven to advance your mission; challenged to achieve excellence.
Otherwise, click on one of the buttons below to continue checking out our capabilities and experience.