BECOME A PART OF SOMETHING

BIGGER.
Exciting careers, cross-domain teamwork, and room to grow.
Because the vast majority of NuWaves' business is focused on military applications and the rules and regulations governing the same, we are only able to employ U.S. citizens.
We are a veteran-owned small business founded in 2000. NuWaves is a premier supplier of Radio Frequency (RF) and microwave solutions for aerospace and defense customers. NuWaves provides quick-tempo design and engineering services, from High Frequency (HF) through Ku-band, that address the most demanding customer requirements, such as electronics hardware miniaturization, project cost, and schedule. NuWaves also offers a broad catalog of high-performance commercial off-the-shelf (COTS) RF products from HF to X-band, including RF power amplifiers, RF frequency converters (upconverters/downconverters), low noise amplifiers, RF filters, and more.
COMPETITIVE BENEFITS PACKAGE
NuWaves offers a competitive benefits package that rivals or exceeds what larger companies can provide. We provide this outstanding package because we value our employees and the pivotal role they play in helping us achieve our tactical and strategical goals. We are also proud to announce that as of January 2020 we have raised our 401k match to be up to 12%.
SHORT TERM & LONG TERM DISABILITY
WIDE VARIETY OF PLANS AVAILABLE (UP TO 12% MATCH)
PAID TIME OFF AND HOLIDAYS
OUR CORE VALUES + OUR PURPOSE, MISSION, AND VISION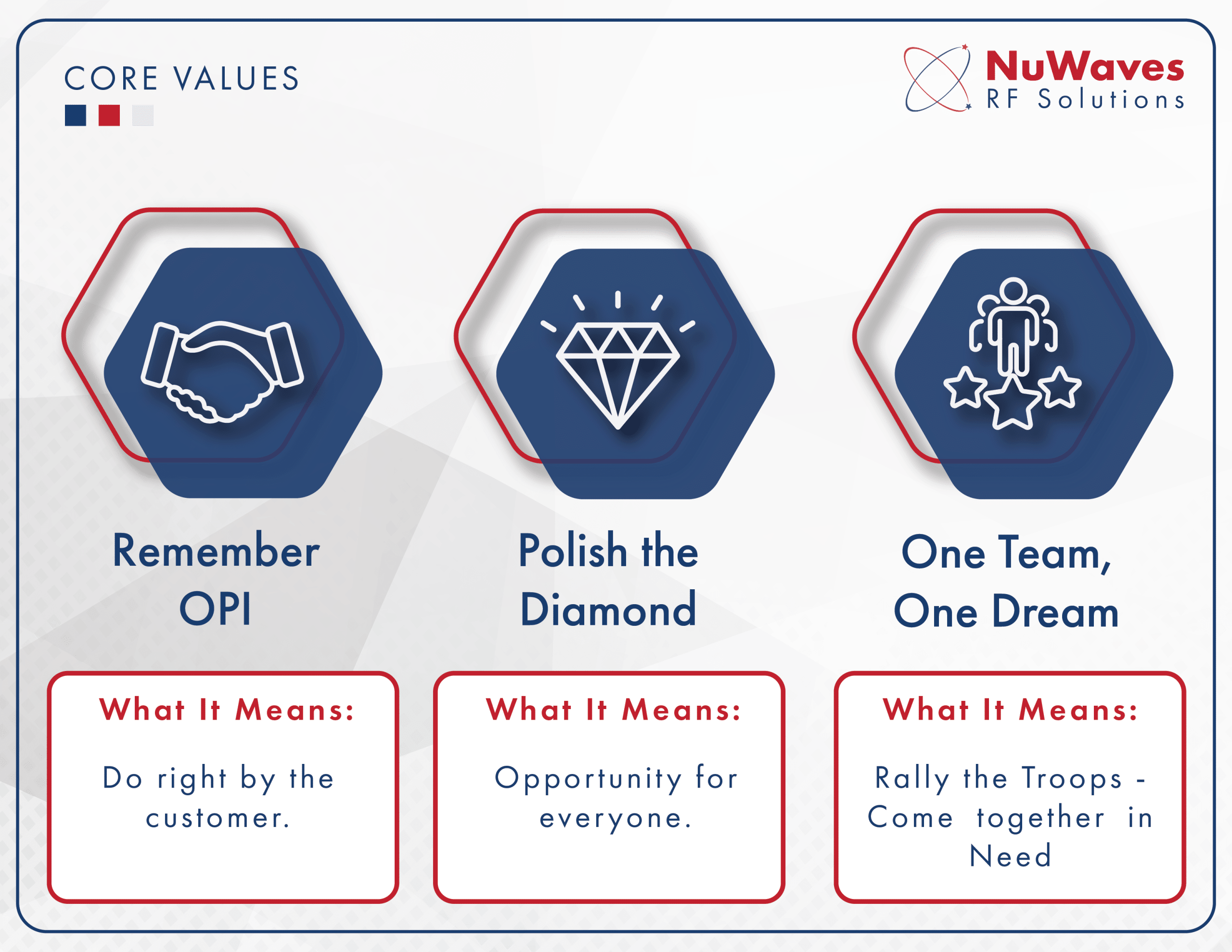 Our company is an equal opportunity/affirmative action employer. Applicants can learn more about their rights by viewing the federal "EEO is the Law" poster and its supplement by clicking here.
DON'T SEE A JOB POSTING HERE, BUT STILL WANT TO BE CONSIDERED FOR A POSITION AT NUWAVES? HAVE QUESTIONS REGARDING EMPLOYMENT OR INTERNSHIPS?