A caring group of patriots founded the veteran-owned small business in 2000, providing advanced Radio Frequency (RF) expertise and microwave solutions for military, government, and industrial customers. Today, NuWaves Engineering provides quick-tempo design and engineering services, as well as a full line of COTS subsystem RF modules, that address today's most demanding RF challenges, especially with regard to hardware size, weight and power (SWaP) reduction, cost and – oftentimes equally important – schedule. NuWaves Engineering is an undisputed leader in the research, design, development, manufacture, integration, sustainment, and modernization of complex RF systems.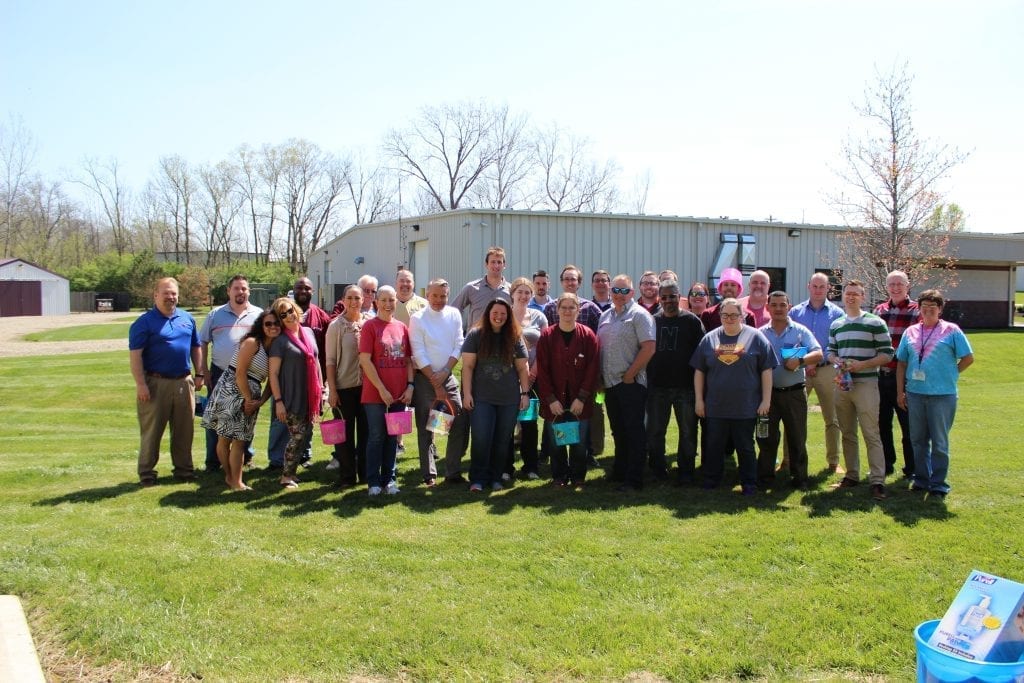 Our MISSION is to deliver high-technology Engineering Services and Product Solutions while achieving positive business results.
Our VISION is to be the preferred provider of Military System and Subsystem solutions by redefining EXCELLENCE.
Our employees subscribe to these Core Values
Pursuit of EXCELLENCE
Valued Employee
Commitment to Customer's Success
Teamwork
Patriotism
NuWaves offers a competitive benefits package which includes:
Medical, Dental, Vision
Short and Long Term Disability and Life Insurance
On-site gym
Paid Time Off and Holidays
401(k) Plans with company-matching
And many more
Why we exist: We are "Driven to advance your mission."
Leaders in military and defense electronics technology and capability.
We have a long history of engineering success for our clients.
Provides unique capabilities to power your initiatives and achieve your objectives.
Inspired by your goals and passionate about delivering unrivaled work.
What we do: "Maximize RF capability and readiness."
We provide advanced RF expertise for military and defense electronics.
We research, design and manufacture solutions from concept to production.
Employs an extensive range of RF products and services from under one roof.
Proven record of innovative engineering and high-performance products.
Who we are: We "Engineer a lasting partnership."
We respond quickly with whatever it takes to get the job done right.
We integrate seamlessly to create one team, relieve stress and deliver results.
Always ready and quick to respond, we are a caring, veteran-owned group of patriots.
We engage in your success and endeavor to build a lasting relationship.
How we do it: With a "Full spectrum of solutions."
We power the entire RF chain with a full range of products and services.
We make communication easy with everything you need and more than you expect.
Both off-the-shelf products and customized solutions tailored to your needs.
We employ quality management processes and are AS9100 and ISO9110 certified.
Recruiting: Be "Challenged to achieve excellence."
Be part of something big with exciting careers, cross domain teamwork and room to grow.
We foster continuous improvement and challenge each other to step up, grow and improve.
As a valued employee you'll enjoy a family atmosphere, a positive culture and great benefits.
We achieve excellence, while supporting one another with genuine care and respect.
Be Challenged to Achieve Excellence
NuWaves is dedicated to providing an environment for individuals to challenge themselves to achieve excellence, while supporting employees with genuine care and respect. Our culture focuses on fostering continuous improvement and challenging each other to step up, grow, and improve. Individuals at NuWaves find that they grow tremendously in a short period of time due to our Culture, our People, and our desire to provide exceptional service to internal and external customers.
Quality Management System
ISO 9001:2015 and AS9100:2016 Rev D
NuWaves is known throughout the industry for innovative, miniature RF module-level products with exceptional performance, in addition to pioneering state-of-the-art RF designs. Our philosophy on quality is guided by the mission to deliver Engineering Design Services and high-technology Products with unsurpassed Excellence in both client satisfaction and business results. Therefore, products are developed in adherence to NuWaves' documented policies.
NuWaves' Quality Management System (QMS) is certified to the ISO 9001:2015 and AS 9100:2016 Rev D standards for the research & development, design, and manufacturing of RF systems and subsystems, which allows us to specialize in the high reliability and key performance requirements for the Defense and Aerospace industries. All product documentation, including schematics, bills of materials, PCB layouts, assembly drawings, etc. are kept under revision control, and any changes to the product documentation requires an approved ECN which results in a subsequent revision to the specified document(s).
Jeff Wells is the founder of NuWaves Engineering and has 33+ years of Defense Electronics experience with a focus on RF Systems & Subsystems, RF products, and innovative research. Jeff Wells is a veteran of the U.S. Navy, where his emphasis was on Electronic Warfare (EW). He has held senior management and technical lead positions at Xetron (Northrop Grumman) and Nova Engineering (L-3 Communications). He is a graduate of the Dorrier Underwood's Chief Executive Mastery and Advanced Mastery Programs. Even more, Jeff is a graduate of Aileron's Course for Presidents. Further, he graduated from the PMI Leadership Institute and has achieved the prestigious Project Manager Professional (PMP) certification. Jeff holds an Electronics Technology degree from the University of the State of New York – (Regents College) and has attended numerous professional education courses such as Georgia Tech's RF and Wireless Engineering courses. Jeff has authored 9 papers published in proceedings of major conferences such as IEEE Military Communications (MILCOM), Defense and Security Symposium, AeroSense, and the International Society of Optical Engineering (SPIE). Moreover, Jeff provides the leadership for implementing commercialization and marketing plans and has a proven track record of taking conceptual designs and prototype hardware to their true commercialization value. Jeff leads the organization's Independent Research and Development (IRaD) projects.
As NuWaves Engineering's Chief Technical Officer (CTO), Tim Wurth has full responsibility for the application and development of technology in order to advance the interests and increase the value of NuWaves Engineering. Ideally suited for this position, he draws on 32+ years of research, design, and development experience in electronic communications with a strong background in delivering innovative solutions from DC to above C-Band. After graduating from The Ohio State University as an electrical engineer (BSEE), Tim has devoted his career to advancing the state-of-the-art in RF designs applied to the transmission, reception, and distribution of RF waveforms for military communications and telemetry. He has also held senior engineering design positions at Cincinnati Electronics (CE) and Nova Engineering, both companies having later been acquired by L-3 Communications.
Director of Engineering Solutions
Mike Trimble is responsible for capturing business opportunities, with an overall objective to manage and create the basis for future company growth. He defines the long-term strategic goals, builds key customer relationships, negotiates and closes business deals, identifies business opportunities and maintains extensive knowledge of current market conditions. Mike has nearly 20 years of experience working with high performance military wireless communication systems and 7 years of experience in the tactical training range community. Mike has a Bachelor's of Science in Electronic Engineering Technology from the University of Cincinnati. Mike brings with him significant experience in technical marketing and sales, business development, product management and project management.
Director of Product Solutions
Ryan Foster is responsible for creating the basis for future company growth by capturing and executing on NuWaves' standard product lines. Ryan oversees independent research and development (IRaD) projects for new product developments, establishes and manages key customer relationships, and works closely with the CEO/President to provide strategic direction and tactical oversight for all activities within the Product Solutions domain.
As the Director of Operations, Jackie Thomas is responsible for setting the strategic direction for the Logistics team, Information Systems, and Administrative Operations teams. Jackie is responsible for leading and managing strategic planning, social media, business systems management, employee development, operational excellence, and facility security initiatives. Jackie has 6+ years of experience in research, quality system management, strategic planning, accounting, and contract management. She has a B.S. in Agriculture from The Ohio State University, an MBA specializing in Leadership and Operations from OSU's Fisher College of Business, and a Lean Six Sigma Green Belt.
As the Director of Finance, Ben Thomas is responsible for setting and executing the strategic direction for and leading NuWaves' Accounting and Finance team. In alignment with the company purpose, Ben is focused on growing and developing talented individuals throughout the company. Ben has 6+ years of experience in customer service, accounting, information systems, and production roles. He has a B.A. in Psychology from The Ohio State University, an MBA from the Keller Graduate School of Management, and a Lean Six Sigma Green Belt.
Director of Manufacturing
Sakada Sieng is responsible for overseeing all areas of Production to support and execute on customer requirements as the Director of Manufacturing. Sakada works with the manufacturing and logistics teams to produce on-schedule and within quality standards and cost objectives. Sakada is responsible for driving process improvement and continually growing NuWaves' production capabilities. He assists company officers and senior staff members in the development and formulation of long and short-range planning, policies, programs, and objectives. Sakada has 10+ years of experience in Manufacturing, including knowledge of Lean Manufacturing Principles. Sakada is an IPC-610 and J-STD-001 certified trainer (CIT).
Looking to partner on your next project? Present and future systems require multi-disciplinary professions; putting NuWaves' RF expertise on your team allows others to focus on their niche. Contact NuWaves at (513) 360-0800 or by email to discuss future business opportunities.