A caring, group of patriots founded the veteran-owned NuWaves Ltd. in 2000, doing business as NuWaves Engineering, providing advanced Radio Frequency (RF) expertise and microwave solutions for military, government, and industrial customers. NuWaves offers an extensive range of RF products and services under one roof, from High Frequency (HF) through Ku-band, that address the most demanding customer requirements, such as electronics hardware miniaturization, project cost, and schedule. NuWaves also offers a broad catalog of high-performance commercial off-the-shelf (COTS) RF products from HF to X-band, including RF power amplifiers, RF bidirectional amplifiers, RF frequency converters (upconverters/downconverters), low noise amplifiers, RF filters, etc. Learn more about NuWaves capabilities.
Mission & Vision
Our MISSION is to deliver high-technology Engineering Services and Product Solutions while achieving positive business results.
Our VISION is to be the preferred provider of Military System and Subsystem solutions by redefining EXCELLENCE.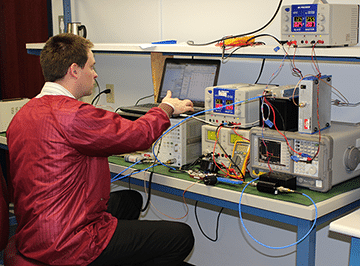 Core Values
Our employees subscribe to these Core Values:
Pursuit of EXCELLENCE
Valued Employee
Commitment to Customer's Success
Teamwork
Patriotism
Benefits
NuWaves offers a competitive benefits package which includes:
Medical, Dental, Vision
Short and Long Term Disability and Life Insurance
On-site gym
Paid Time Off and Holidays
401(k) Plans with company-matching
And many more
Core Statements:
Why we exist: We are "Driven to advance your mission."
Leaders in military and defense electronics technology and capability.
We have a long history of engineering success for our clients.
Provides unique capabilities to power your initiatives and achieve your objectives.
Inspired by your goals and passionate about delivering unrivaled work.
Who we are: We "Engineer a lasting partnership."
We respond quickly with whatever it takes to get the job done right.
We integrate seamlessly to create one team, relieve stress and deliver results.
Always ready and quick to respond, we are a caring, veteran-owned group of patriots.
We engage in your success and endeavor to build a lasting relationship.
Recruiting: Be "Challenged to achieve excellence."
Be part of something big with exciting careers, cross domain teamwork and room to grow.
We foster continuous improvement and challenge each other to step up, grow and improve.
As a valued employee you'll enjoy a family atmosphere, a positive culture and great benefits.
We achieve excellence, while supporting one another with genuine care and respect.
What we do: "Maximize RF capability and readiness."
We provide advanced RF expertise for military and defense electronics.
We research, design and manufacture solutions from concept to production.
Employs an extensive range of RF products and services from under one roof.
Proven record of innovative engineering and high-performance products.
How we do it: With a "Full spectrum of solutions."
We power the entire RF chain with a full range of products and services.
We make communication easy with everything you need and more than you expect.
Both off-the-shelf products and customized solutions tailored to your needs.
We employ quality management processes and are AS9100 and ISO9110 certified.
Culture – Be Challenged to Achieve Excellence
NuWaves is dedicated to providing an environment for individuals to challenge themselves to achieve excellence, while supporting employees with genuine care and respect. Our culture focuses on fostering continuous improvement and challenging each other to step up, grow, and improve. Individuals at NuWaves find that they grow tremendously in a short period of time due to our Culture, our People, and our desire to provide exceptional service to internal and external customers.
Facilities
NuWaves is located in Middletown, Ohio, just north of Cincinnati and south of Dayton. NuWaves facilities include Engineering Development Laboratories, Research Areas, Manufacturing Areas, Production Test Laboratories, Engineering Offices, Purchasing Offices, Accounting, Shipping/Receiving, Engineering and Manufacturing Component Storage, Cafeteria, Inspection Areas, Conference Rooms, and Large Event Rooms totaling 30,300 square feet.
Research and Technology Center – 122 Edison Drive
Executive and Manufacturing Center – 132 Edison Drive
NuWaves Industry Codes:
North American Industry Classification Code (NAICS) – 541330 Engineering Services
Standard Industrial Classification (SIC) – 8711 Engineering Services